We  are  delighted  to  once  again  host the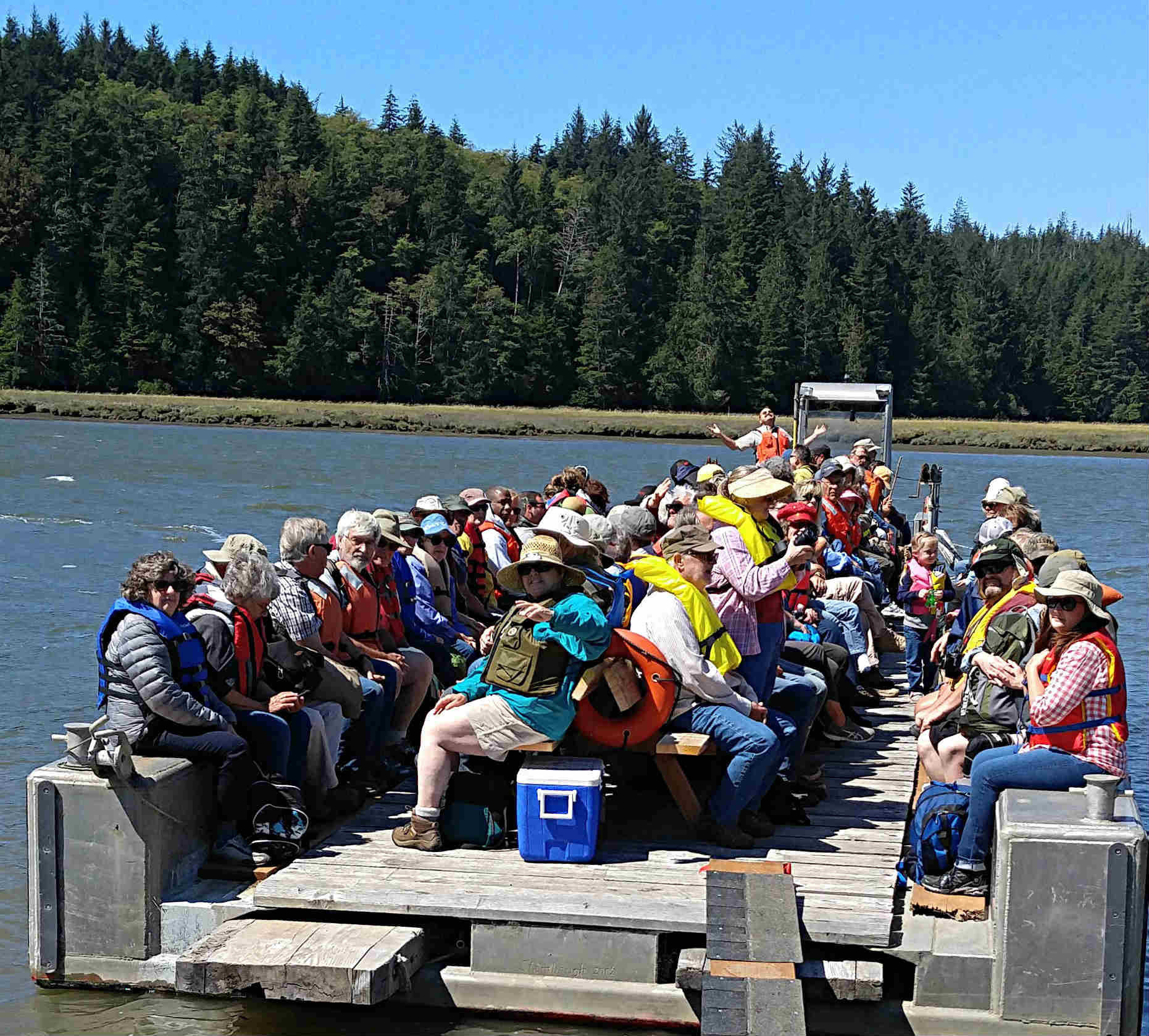 member's only annual Barge Trip to Long Island! Special invitation and registration information for Friends of Willapa National Wildlife Refuge members!
This is a MEMBERS ONLY event, but if you are not currently a member and want to qualify to go on this unique trip, please join the Friends online here by Thursday, June 22.http://friendsofwillaparefuge.org/membership/
Registration details:
Based on your membership level, you will be able to register as follows:
— Individual (if you paid $20 for membership): just yourself
— Family ($30): up to four family members (including yourself)
— Patron ($50), Business ($90), & Benefactor($100+): yourself & one additional guest (2 people total)
1.  Registration will begin at noon on Monday, June 26th online and continue until all seats are filled.
2.  Where to register: an email will be sent to Friends' members Sunday June 25 with the web address for registration. Keep an eye on your inbox for this! Tickets will go fast!
3. A waiting list will be compiled once seats are filled; if seats become available, registrants will be notified in the order in which registrations were received.
Schedule:
11:00 – 11:30:  Arrive at Refuge Headquarters (near mile marker 24 on Hwy. 101) and sign in
11:30 – 11:45:  Load the barge
11:45 – 12:30:  Barge to Smokey Hollow on Long Island
12:30 – 2:15:  Hike to the Don Bonker Cedar Grove Trail and back
2:15 – 2:30:  Load the barge for return trip
2:30 – 3:15:  Barge to Refuge Headquarters
What to Bring:
Personal flotation device (if you have one)—the Refuge can supply some, but there are no   PFDs for children. All participants MUST wear a PFD.
Lunch, snacks, water.
Clothing and footwear for all kinds of weather. Please note that it is not uncommon to leave in the morning with the sun shining, only to return in the wind/rain—or vice versa.
Additional Details:
The hike, of about 1.5 miles roundtrip, includes a slight elevation at the beginning, but is not considered a strenuous hike.
There will be some group leaders for those who would like to learn more about the history, flora, and fauna of the island. Participants may also hike on their own, as long as they return to the barge at the appointed time.
**The trip will go ahead rain or shine, except for extreme weather conditions, such as lightning and/or strong winds.**
Questions? Contact membership@friendsofwillaparefuge.org
We'll be in touch soon with the registration website!